Product Description
TaiBang Motor Industry Group Co., Ltd.
The main products is induction motor, reversible motor, DC brush gear motor, DC brushless gear motor, CH/CV big gear motors, Planetary gear motor ,Worm gear motor etc, which used widely in various fields of manufacturing pipelining, transportation, food, medicine, printing, fabric, packing, office, apparatus, entertainment etc, and is the preferred and matched product for automatic machine. 
Model Instruction
GB090-10-P2
GB
090
571
P2
Reducer Series Code
External Diameter
Reduction Ratio
Reducer Backlash
GB:High Precision Square Flange Output

GBR:High Precision Right Angle Square Flange Output

GE:High Precision Round Flange Output

GER:High Precision Right Round Flange Output

050:ø50mm
070:ø70mm
090:ø90mm
120:ø120mm
155:ø155mm
205:ø205mm
235:ø235mm
042:42x42mm
060:60x60mm
090:90x90mm
115:115x115mm
142:142x142mm
180:180x180mm
220:220x220mm
571 means 1:10
P0:High Precision Backlash

P1:Precison Backlash

P2:Standard Backlash
Main Technical Performance
 
Item
Number of stage
Reduction Ratio
GB042
GB060
GB060A
GB090
GB090A
GB115
GB142
GB180
GB220
Rotary Inertia
1
3
0.03
0.16
 
0.61
 
3.25
9.21
28.98
69.61
4
0.03
0.14
 
0.48
 
2.74
7.54
23.67
54.37
5
0.03
0.13
 
0.47
 
2.71
7.42
23.29
53.27
6
0.03
0.13
 
0.45
 
2.65
7.25
22.75
51.72
7
0.03
0.13
 
0.45
 
2.62
7.14
22.48
50.97
8
0.03
0.13
 
0.44
 
2.58
7.07
22.59
50.84
9
0.03
0.13
 
0.44
 
2.57
7.04
22.53
50.63
10
0.03
0.13
 
0.44
 
2.57
7.03
22.51
50.56
2
15
0.03
0.03
0.13
0.13
0.47
0.47
2.71
7.42
23.29
20
0.03
0.03
0.13
0.13
0.47
0.47
2.71
7.42
23.29
25
0.03
0.03
0.13
0.13
0.47
0.47
2.71
7.42
23.29
30
0.03
0.03
0.13
0.13
0.47
0.47
2.71
7.42
23.29
35
0.03
0.03
0.13
0.13
0.47
0.47
2.71
7.42
23.29
40
0.03
0.03
0.13
0.13
0.47
0.47
2.71
7.42
23.29
45
0.03
0.03
0.13
0.13
0.47
0.47
2.71
7.42
23.29
50
0.03
0.03
0.13
0.13
0.44
0.44
2.57
7.03
22.51
60
0.03
0.03
0.13
0.13
0.44
0.44
2.57
7.03
22.51
70
0.03
0.03
0.13
0.13
0.44
0.44
2.57
7.03
22.51
80
0.03
0.03
0.13
0.13
0.44
0.44
2.57
7.03
22.51
90
0.03
0.03
0.13
0.13
0.44
0.44
2.57
7.03
22.51
100
0.03
0.03
0.13
0.13
0.44
0.44
2.57
7.03
22.51
Item
Number of stage
GB042
GB060
GB060A
GB90
GB090A
GB115
GB142
GB180
GB220
Backlash(arcmin)
High Precision P0
1
 
 
 
≤1
≤1
≤1
≤1
≤1
≤1
2
 
 
 
 
 
≤3
≤3
≤3
≤3
Precision P1
1
≤3
≤3
≤3
≤3
≤3
≤3
≤3
≤3
≤3
2
≤5
≤5
≤5
≤5
≤5
≤5
≤5
≤5
≤5
Standard P2
1
≤5
≤5
≤5
≤5
≤5
≤5
≤5
≤5
≤5
2
≤7
≤7
≤7
≤7
≤7
≤7
≤7
≤7
≤7
Torsional Rigidity(N.M/arcmin)
1
3
7
7
14
14
25
50
145
225
2
3
7
7
14
14
25
50
145
225
Noise(dB)
1,2
≤56
≤58
≤58
≤60
≤60
≤63
≤65
≤67
≤70
Rated input speed(rpm)
1,2
5000
5000
5000
4000
4000
4000
3000
3000
2000
Max input speed(rpm)
1,2
10000
10000
10000
8000
8000
8000
6000
6000
4000
 Noise test standard:Distance 1m,no load.Measured with an input speed 3000rpm 
| | |
| --- | --- |
| Application: | Machinery, Agricultural Machinery |
| Function: | Distribution Power, Change Drive Torque, Change Drive Direction, Speed Reduction |
| Layout: | Cycloidal |
| Hardness: | Hardened Tooth Surface |
| Installation: | Vertical Type |
| Step: | Double-Step |
Samples:

US$ 50/Piece

1 Piece(Min.Order)

|
Request Sample
Customization:

Available

|

Customized Request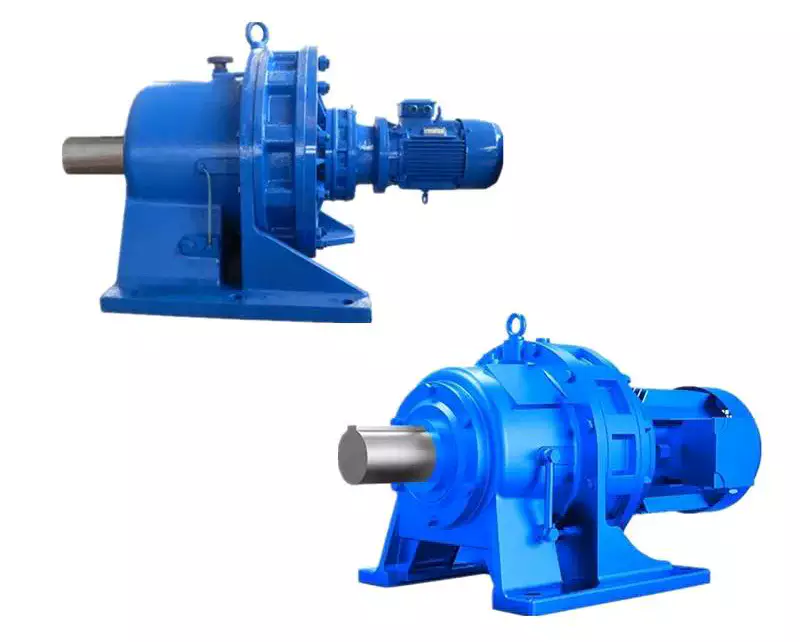 Cyclone Gearbox Vs Involute Gearbox
Whether you're using a cycloidal gearbox or an involute gearbox for your application, there are a few things you should know. This article will highlight some of those things, including: cycloidal gearbox vs involute gearbox, weight, compressive force, precision, and torque density.
Compressive force
Several studies have been carried out to analyze the static characteristics of gears. In this article, the authors investigate the structural and kinematic principles of a cycloidal gearbox. The cycloidal gearbox is a gearbox that uses an eccentric bearing inside a rotating frame. It has no common pinion-gear pair, and is therefore ideal for a high reduction ratio.
The purpose of this paper is to investigate the stress distribution on a cycloidal disc. Various gear profiles are investigated in order to study the load distribution and dynamic effects.
Cycloidal gearboxes are subject to compression and backlash, which require the use of proper ratios for the bearing rate and the TSA. The paper also focuses on the kinematic principles of the reducer. In addition, the authors use standard analysis techniques for the shaft/gear and the cycloidal disc.
The authors previously worked on a rigid body dynamic simulation of a cycloidal reducer. The analysis used a trochoidal profile on the cycloidal disc periphery. The trochoidal profile is obtained from a manufacturing drawing and takes into account the tolerances.
The mesh density in the cycloidal disc captures the exact geometry of the parts. It provides accurate contact stresses.
The cycloidal disc consists of nine lobes, which move by one lobe per rotation of the drive shaft. However, when the disc is rotated around the pins, the cycloidal disc does not move around the center of gravity. Therefore, the cycloidal disc shares torque load with five outer rollers.
A low reduction ratio in a cycloidal gearbox results in a higher induced stress in the cycloidal disc. This is due to the bigger hole designed to reduce the material inside the disc.
Torque density
Several types of magnetic gearboxes have been studied. Some magnetic gearboxes have a higher torque density than others, but they are still not able to compete with the mechanical gearboxes.
A new high torque density cycloidal magnetic gearbox using Halbach rotors has been developed and is being tested. The design was validated by building a CPCyMG prototype. The results showed that the simulated slip torque was comparable to the experimental slip torque. The peak torque measured was a p3 = 14 spatial harmonic, and it corresponds to the active region torque density of 261.4 N*m/L.
This cycloidal gearbox also has a high gear ratio. It has been tested to achieve a peak torque of 147.8 Nm, which is more than double the torque density of the traditional cycloidal gearbox. The design incorporates a ferromagnetic back-support that provides mechanical fabrication support.
This cycloidal gearbox also shows how a small diameter can achieve a high torque density. It is designed with an axial length of 50mm. The radial deflection forces are not serious at this length. The design uses a small air gap to reduce the radial deflection forces, but it is not the only design option.
The trade-off design also has a high volumetric torque density. It has a smaller air gap and a higher mass torque density. It is feasible to make and mechanically strong. The design is also one of the most efficient in its class.
The helical gearing design is a newer technology that brings a higher level of precision to a cycloidal gearbox. It allows a servomotor to handle a heavy load at high cycle rates. It is also useful in applications that require smaller design envelopes.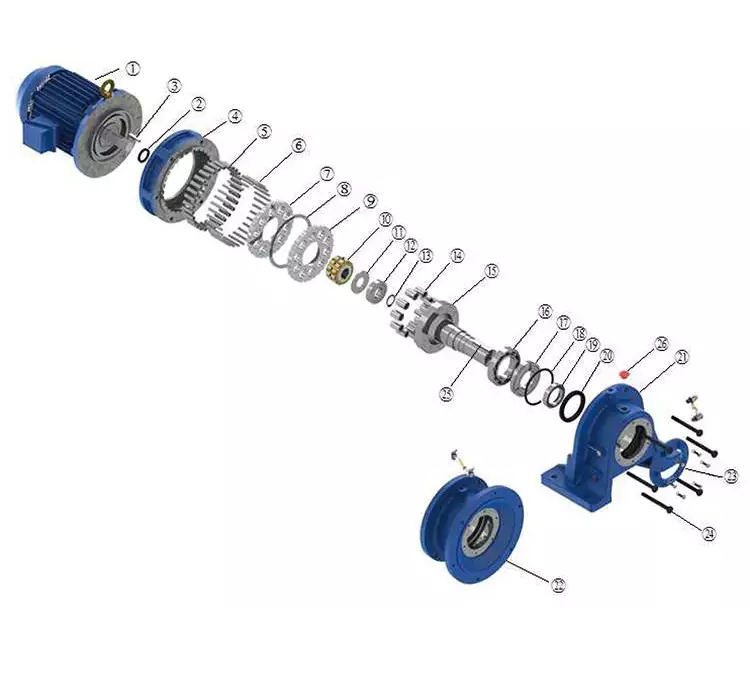 Weight
Compared to planetary gearboxes, the weight of cycloidal gearboxes is not as significant. However, they do provide some advantages. One of the most significant features is their backlash-free operation, which helps them deliver smooth and precise movement.
In addition, they provide high efficiency, which means that servo motors can run at higher speeds. The best part is that they do not need to be stacked up in order to achieve a high ratio.
Another advantage of cycloidal gearboxes is that they are usually less expensive than planetary gearboxes. This means that they are suitable for the manufacturing industry and robotics. They are also suited for heavy-duty robots that require a robust gearbox.
They also provide a better reduction ratio. Cycloidal gears can achieve reduction ratios from 30:1 to 300:1, which is a huge improvement over planetary gears. However, there are few models available that provide a ratio below 30:1.
Cycloidal gears also offer more resistance to wear, which means that they can last longer than planetary gears. They are also more compact, which helps them achieve high ratios in a smaller space. The design of cycloidal gears also makes them less prone to backlash, which is one of the major shortcomings of planetary gearboxes.
In addition, cycloidal gears can also provide better positioning accuracy. In fact, this is one of the primary reasons for choosing cycloidal gears over planetary gears. This is because the cycloid disc rotates around a bearing independently of the input shaft.
Compared to planetary gearboxes, cycloidal gears are also much shorter. This means that they provide the best positioning accuracy. They are also 50% lighter, meaning that they have a smaller diameter.
Precision
Several experts have studied the cycloidal gearbox in precision reducers. Their research mainly focuses on the mathematical model and the method for precision evaluation of cycloidal gears.
The traditional modification design of cycloidal gears is mainly realized by setting various machining parameters and center position of the grinding wheel. But it has some disadvantages because of unstable meshing accuracy and uncontrollable tooth profile curve shape.
In this study, a new method of modification design of cycloidal gears is proposed. This method is based on the calculation of meshing backlash and pressure angle distribution. It can effectively pre-control the transmission accuracy of cycloid-pin gear. It can also ensure good meshing characteristics.
The proposed method can be applied in the manufacture of rotary vector reducers. It is also applicable in the precision reducer for robots.
The mathematical model for cycloidal gears can be established with the pressure angle a as a dependent variable. It is possible to calculate the pressure angle distribution and the profile pressure angle. It can also be expressed as DL=f(a). It can be applied in the design of precision reducers.
The study also considers the root clearance, the backlash of gear teeth and the profile angle. These factors have a direct effect on the transmission performance of cycloidal gear. It also indicates the higher motion accuracy and the smaller backlash. The modified profile can also reflect the smaller transmission error.
In addition, the proposed method is also based on the calculation of lost motion. It determines the angle of first tooth contacts. This angle is an important factor affecting the modification quality. The transmission error after the second cycloid method is the least.
Finally, a case study on the CZPT RV-35N gear pair is shown to prove the proposed method.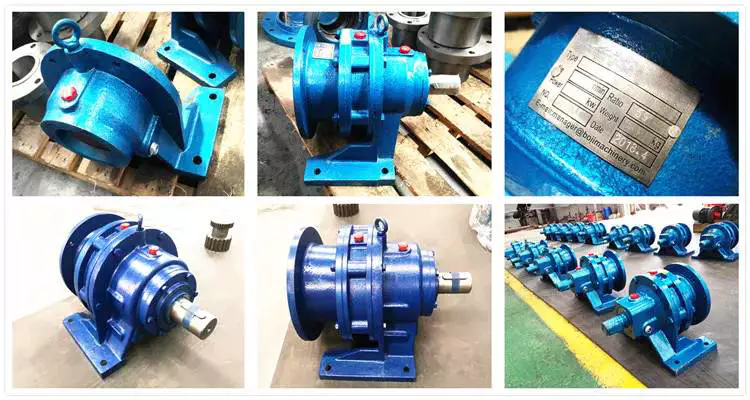 Involute gears vs cycloidal gears
Compared to involute gears, cycloidal gears have a lower noise, less friction, and last longer. However, they are more expensive. Cycloidal gears can be more difficult to manufacture. They may be less suitable for certain applications, including space manipulators and robotic joints.
The most common gear profile is the involute curve of a circle. This curve is formed by the endpoint of an imaginary taut string unwinding from the circle.
Another curve is the epicycloid curve. This curve is formed by the point rigidly attached to the circle rolling over another circle. This curve is difficult to produce and is much more expensive to produce than the involute curve.
The cycloid curve of a circle is also an example of the multi-cursor. This curve is generated by the locus of the point on the circle's circumference.
The cycloid curve has the same diameter as the involute curve, but is tangentially curving along the circle's diameter. This curve is also classified as ordinary. It has several other functions. The FE method was used to analyze the strain state of cycloidal speed reducers.
There are many other curves, but the involute curve is the most widely used gear profile. The involute curve of a circle is a spiraling curve traced by the endpoint of an imaginary tautstring.
Involute gears are a lot like a set of Lego blocks. They are a lot of fun to play with. They also have a lot of advantages. For example, they can handle center sifts better than cycloidal gears. They are also much easier to manufacture, so the cost of involute teeth is lower. However, they are obsolete.
Cycloidal gears are also more difficult to manufacture than involute gears. They have a convex surface, which leads to more wear. They also have a simpler shape than involute gears. They also have less teeth. They are used in rotary motions, such as in the rotors of screw compressors.




editor by CX 2023-04-26
Guarantee: 3months-1year
Design Quantity: SMX24R-RF370
Utilization: Sensible House, safe lock, automatic valve, and so forth.
Kind: Gear MOTOR
Torque: .2(N.m)
Building: Long lasting Magnet
Commutation: Brush
Protect Feature: Entirely Enclosed
Speed(RPM): 1305(rpm)
Constant Present(A): .31(A)
Performance: IE one
Certification: iso9001
Packaging Information: Carton Box
Specification
| | |
| --- | --- |
| Warranty | 3months-1year |
| Place of Origin | China |
| | ZheJiang |
| Brand Name | shengma |
| Model Amount | SMX24R-RF370 |
| Usage | SMART Home, protected lock, automatic valve, and so forth. |
| Certification | iso9001 |
| Type | GEAR MOTOR |
| Torque | 0.2(N.m) |
| Construction | Permanent Magnet |
| Commutation | Brush |
| Protect Feature | Totally Enclosed |
| Speed(RPM) | 1305(rpm) |
| Continuous Existing(A) | 0.31(A) |
| Efficiency | IE 1 |
Suggested by vendor Applications :
| | | | | |
| --- | --- | --- | --- | --- |
| Our goods widely utilised in Robot, 3D pen and device, Electrical power Lock ,Digital Lock ,Optic products ,Micro System, China Cultivador Rotativo Motokultivator Motocultivador Offering Australian Agricultural Equipment Diesel Mini-Tiller Cultivator Cash detcotor, Printer ,Electric powered toothbrush, Rear check out mirror, Vehicle taillight, Electric window cloth, Cellular cellphone digital camera and so on. | | | | |
| | | | | |
| Appropriate to little diameter, reduced noise and large torque applications. | | | | |
| | | | | |
Certifications Factory data:Established in 2019,HangZhou Shengma Motor Co.Ltd.is a specialist maker and supplier of micro DC and gear motors and related answers.Our products and answers are extensively utilised in automotive,house appliances,private treatment, electricity resources, Nema24 PLE60 second stage higher exact Planetary Reducer Gearbox PLF 701 equipment ratio industrial equipment health care units,valve programs and other fields. Shengma Motors subsidiary has passed the IS09001:2017 certification.and has acquired a number of honorary certificates. Some of our consumers : Item packaging Delivery time:DHL: 3-5 working days UPS: 5-7 working days TNT: 5-7 working days FedEx: 7-9 working days EMS: 12-15 working days ChinaPost: Depends on ship to which place Sea: Relies upon on ship to which nation FAQ Q: How to get?A: send out us inquiry → obtain our quotation → negotiate particulars → verify the sample → indication contract/deposit → Yellow Generate Shaft Straight Protector T1 ten-twenty HP 800MM 1 38" Z6 PTO Shaft mass production→cargo completely ready → harmony/shipping and delivery → additional cooperation. Q: How about Sample buy?A: Sample is obtainable for you. remember to get in touch with us for details. Get in touch with us Q: Which transport way is avaliable?A: DHL, UPS, FedEx, TNT, EMS, China Post,Sea are available.The other shipping methods are also available, remember to get in touch with us if youneed ship by the other transport way. Q: My package has lacking items. What can I do?A: Remember to contact our assistance crew and we will verify your order with the package contents.We apologize for any inconveniences. Q: How to affirm the payment?A: We acknowledge payment by T/T, PayPal, Prime Url Assembly For CZPT Tractor 3 Position Hitch Made In China Agricultural Machinery Components the other payment approaches also could be approved,Please make contact with us prior to you pay by the otherpayment approaches. Also thirty-fifty% deposit is available, the equilibrium income ought to be compensated ahead of transport.
Benefits of a Planetary Motor
Besides being one of the most efficient forms of a drive, a Planetary Motor also offers a great number of other benefits. These features enable it to create a vast range of gear reductions, as well as generate higher torques and torque density. Let's take a closer look at the benefits this mechanism has to offer. To understand what makes it so appealing, we'll explore the different types of planetary systems.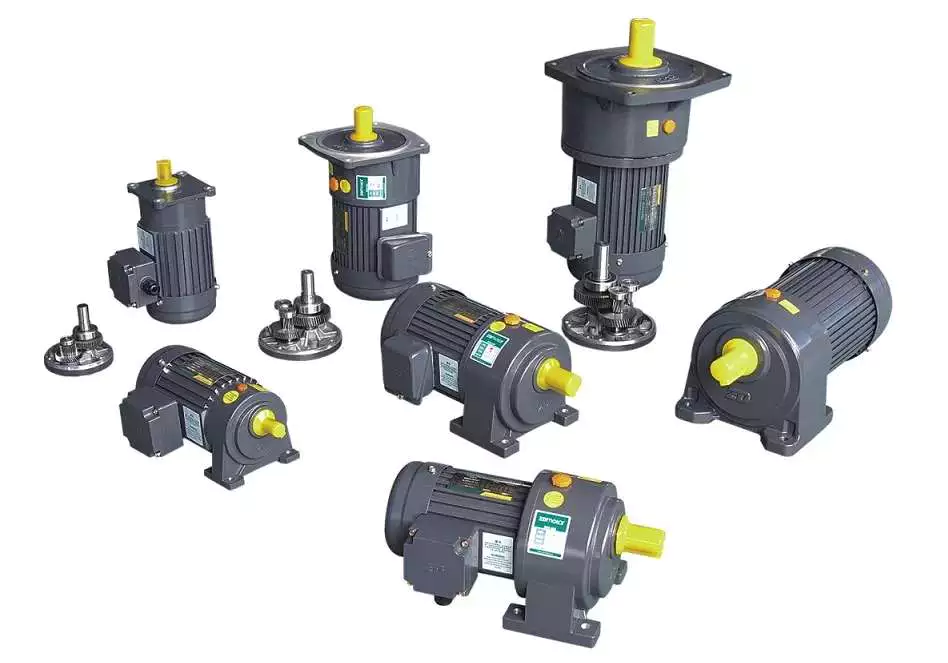 Solar gear
The solar gear on a planetary motor has two distinct advantages. It produces less noise and heat than a helical gear. Its compact footprint also minimizes noise. It can operate at high speeds without sacrificing efficiency. However, it must be maintained with constant care to operate efficiently. Solar gears can be easily damaged by water and other debris. Solar gears on planetary motors may need to be replaced over time.
A planetary gearbox is composed of a sun gear and two or more planetary ring and spur gears. The sun gear is the primary gear and is driven by the input shaft. The other two gears mesh with the sun gear and engage the stationary ring gear. The three gears are held together by a carrier, which sets the spacing. The output shaft then turns the planetary gears. This creates an output shaft that rotates.
Another advantage of planetary gears is that they can transfer higher torques while being compact. These advantages have led to the creation of solar gears. They can reduce the amount of energy consumed and produce more power. They also provide a longer service life. They are an excellent choice for solar-powered vehicles. But they must be installed by a certified solar energy company. And there are other advantages as well. When you install a solar gear on a planetary motor, the energy produced by the sun will be converted to useful energy.
A solar gear on a planetary motor uses a solar gear to transmit torque from the sun to the planet. This system works on the principle that the sun gear rotates at the same rate as the planet gears. The sun gear has a common design modulus of -Ns/Np. Hence, a 24-tooth sun gear equals a 3-1/2 planet gear ratio. When you consider the efficiency of solar gears on planetary motors, you will be able to determine whether the solar gears are more efficient.
Sun gear
The mechanical arrangement of a planetary motor comprises of two components: a ring gear and a sun gear. The ring gear is fixed to the motor's output shaft, while the sun gear rolls around and orbits around it. The ring gear and sun gear are linked by a planetary carrier, and the torque they produce is distributed across their teeth. The planetary structure arrangement also reduces backlash, and is critical to achieve a quick start and stop cycle.
When the two planetary gears rotate independently, the sun gear will rotate counterclockwise and the ring-gear will turn in the same direction. The ring-gear assembly is mounted in a carrier. The carrier gear and sun gear are connected to each other by a shaft. The planetary gears and sun gear rotate around each other on the ring-gear carrier to reduce the speed of the output shaft. The planetary gear system can be multiplied or staged to obtain a higher reduction ratio.
A planetary gear motor mimics the planetary rotation system. The input shaft turns a central gear, known as the sun gear, while the planetary gears rotate around a stationary sun gear. The motor's compact design allows it to be easily mounted to a vehicle, and its low weight makes it ideal for small vehicles. In addition to being highly efficient, a planetary gear motor also offers many other benefits.
A planetary gearbox uses a sun gear to provide torque to the other gears. The planet pinions mesh with an internal tooth ring gear to generate rotation. The carrier also acts as a hub between the input gear and output shaft. The output shaft combines these two components, giving a higher torque. There are three types of planetary gearboxes: the sun gear and a wheel drive planetary gearbox.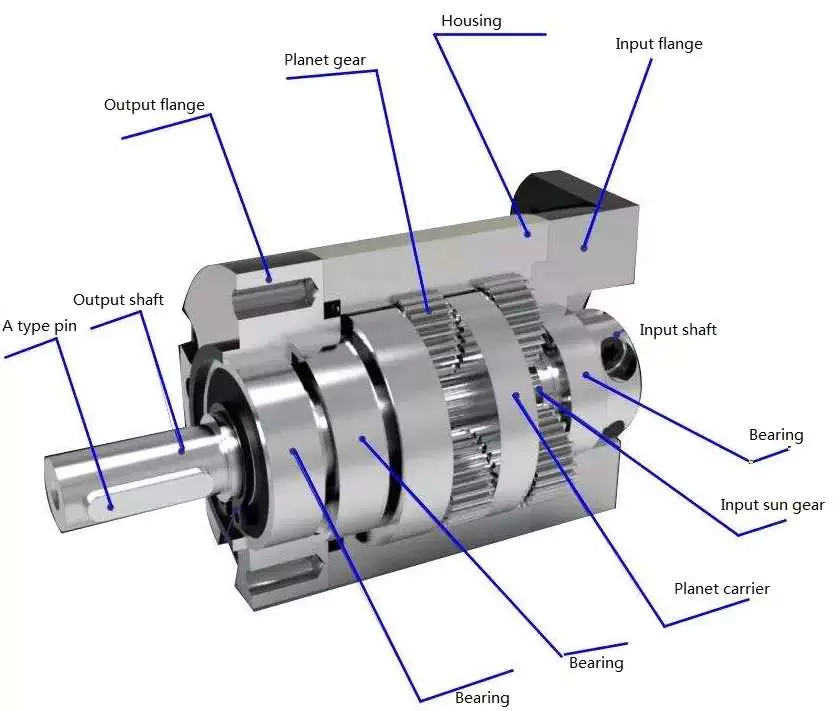 Planetary gear
A planetary motor gear works by distributing rotational force along a separating plate and a cylindrical shaft. A shock-absorbing device is included between the separating plate and cylindrical shaft. This depressed portion prevents abrasion wear and foreign particles from entering the device. The separating plate and shaft are positioned coaxially. In this arrangement, the input shaft and output shaft are rotated relative to one another. The rotatable disc absorbs the impact.
Another benefit of a planetary motor gear is its efficiency. Planetary motor gears are highly efficient at transferring power, with 97% of the input energy being transferred to the output. They can also have high gear ratios, and offer low noise and backlash. This design also allows the planetary gearbox to work with electric motors. In addition, planetary gears also have a long service life. The efficiency of planetary gears is due in part to the large number of teeth.
Other benefits of a planetary motor gear include the ease of changing ratios, as well as the reduced safety stock. Unlike other gears, planetary gears don't require special tools for changing ratios. They are used in numerous industries, and share parts across multiple sizes. This means that they are cost-effective to produce and require less safety stock. They can withstand high shock and wear, and are also compact. If you're looking for a planetary motor gear, you've come to the right place.
The axial end surface of a planetary gear can be worn down by abrasion with a separating plate. In addition, foreign particles may enter the planetary gear device. These particles can damage the gears or even cause noise. As a result, you should check planetary gears for damage and wear. If you're looking for a gear, make sure it has been thoroughly tested and installed by a professional.
Planetary gearbox
A planetary motor and gearbox are a common combination of electric and mechanical power sources. They share the load of rotation between multiple gear teeth to increase the torque capacity. This design is also more rigid, with low backlash that can be as low as one or two arc minutes. The advantages of a planetary gearmotor over a conventional electric motor include compact size, high efficiency, and less risk of gear failure. Planetary gear motors are also more reliable and durable than conventional electric motors.
A planetary gearbox is designed for a single stage of reduction, or a multiple-stage unit can be built with several individual cartridges. Gear ratios may also be selected according to user preference, either to face mount the output stage or to use a 5mm hex shaft. For multi-stage planetary gearboxes, there are a variety of different options available. These include high-efficiency planetary gearboxes that achieve a 98% efficiency at single reduction. In addition, they are noiseless, and reduce heat loss.
A planetary gearbox may be used to increase torque in a robot or other automated system. There are different types of planetary gear sets available, including gearboxes with sliding or rolling sections. When choosing a planetary gearset, consider the environment and other factors such as backlash, torque, and ratio. There are many advantages to a planetary gearbox and the benefits and drawbacks associated with it.
Planetary gearboxes are similar to those in a solar system. They feature a central sun gear in the middle, two or more outer gears, and a ring gear at the output. The planetary gears rotate in a ring-like structure around a stationary sun gear. When the gears are engaged, they are connected by a carrier that is fixed to the machine's shaft.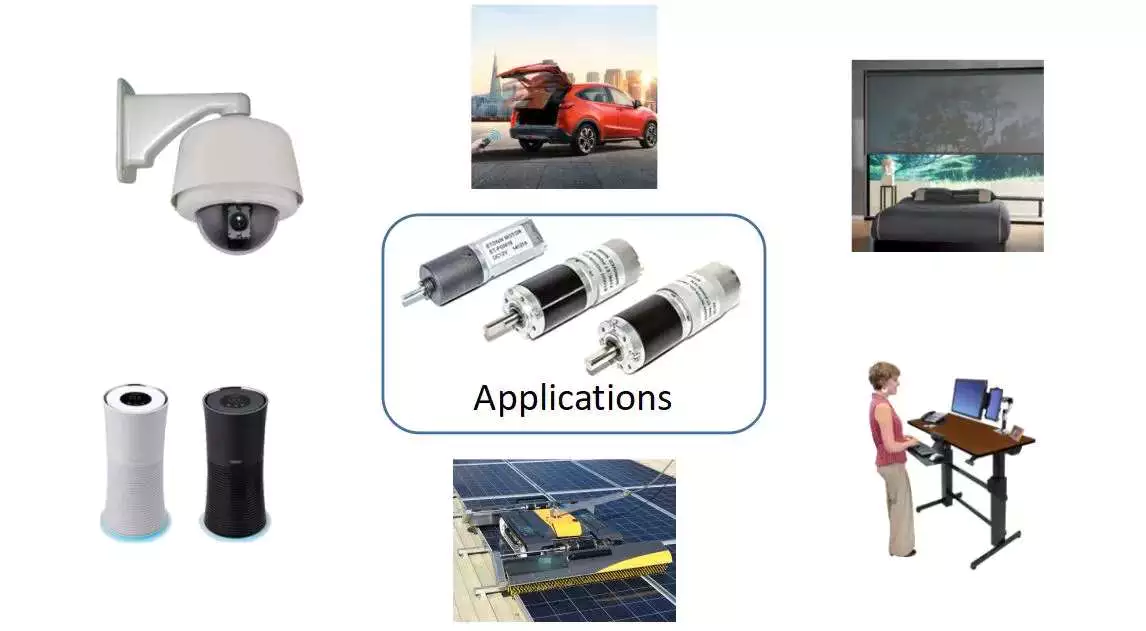 Planetary gear motor
Planetary gear motors reduce the rotational speed of an armature by one or more times. The reduction ratio depends on the structure of the planetary gear device. The planetary gear device has an output shaft and an armature shaft. A separating plate separates the two. The output shaft moves in a circular pattern to turn the pinion 3. When the pinion rotates to the engagement position, it is engaged with the ring gear 4. The ring gear then transmits the rotational torque to the armature shaft. The result is that the engine cranks up.
Planetary gear motors are cylindrical in shape and are available in various power levels. They are typically made of steel or brass and contain multiple gears that share the load. These motors can handle massive power transfers. The planetary gear drive, on the other hand, requires more components, such as a sun's gear and multiple planetary gears. Consequently, it may not be suitable for all types of applications. Therefore, the planetary gear drive is generally used for more complex machines.
Brush dusts from the electric motor may enter the planetary gear device and cause it to malfunction. In addition, abrasion wear on the separating plate can affect the gear engagement of the planetary gear device. If this occurs, the gears will not engage properly and may make noise. In order to prevent such a situation from occurring, it is important to regularly inspect planetary gear motors and their abrasion-resistant separating plates.
Planetary gear motors come in many different power levels and sizes. These motors are usually cylindrical in shape and are made of steel, brass, plastic, or a combination of both materials. A planetary gear motor can be used in applications where space is an issue. This motor also allows for low gearings in small spaces. The planetary gearing allows for large amounts of power transfer. The output shaft size is dependent on the gear ratio and the motor speed.