Product Description
TaiBang Motor Industry Group Co., Ltd.
The main products is induction motor, reversible motor, DC brush gear motor, DC brushless gear motor, CH/CV big gear motors, Planetary gear motor ,Worm gear motor etc, which used widely in various fields of manufacturing pipelining, transportation, food, medicine, printing, fabric, packing, office, apparatus, entertainment etc, and is the preferred and matched product for automatic machine. 
Model Instruction
GB090-10-P2
GB
090
571
P2
Reducer Series Code
External Diameter
Reduction Ratio
Reducer Backlash
GB:High Precision Square Flange Output

GBR:High Precision Right Angle Square Flange Output

GE:High Precision Round Flange Output

GER:High Precision Right Round Flange Output

050:ø50mm
070:ø70mm
090:ø90mm
120:ø120mm
155:ø155mm
205:ø205mm
235:ø235mm
042:42x42mm
060:60x60mm
090:90x90mm
115:115x115mm
142:142x142mm
180:180x180mm
220:220x220mm
571 means 1:10
P0:High Precision Backlash

P1:Precison Backlash

P2:Standard Backlash
Main Technical Performance
 
Item
Number of stage
Reduction Ratio
GB042
GB060
GB060A
GB090
GB090A
GB115
GB142
GB180
GB220
Rotary Inertia
1
3
0.03
0.16
 
0.61
 
3.25
9.21
28.98
69.61
4
0.03
0.14
 
0.48
 
2.74
7.54
23.67
54.37
5
0.03
0.13
 
0.47
 
2.71
7.42
23.29
53.27
6
0.03
0.13
 
0.45
 
2.65
7.25
22.75
51.72
7
0.03
0.13
 
0.45
 
2.62
7.14
22.48
50.97
8
0.03
0.13
 
0.44
 
2.58
7.07
22.59
50.84
9
0.03
0.13
 
0.44
 
2.57
7.04
22.53
50.63
10
0.03
0.13
 
0.44
 
2.57
7.03
22.51
50.56
2
15
0.03
0.03
0.13
0.13
0.47
0.47
2.71
7.42
23.29
20
0.03
0.03
0.13
0.13
0.47
0.47
2.71
7.42
23.29
25
0.03
0.03
0.13
0.13
0.47
0.47
2.71
7.42
23.29
30
0.03
0.03
0.13
0.13
0.47
0.47
2.71
7.42
23.29
35
0.03
0.03
0.13
0.13
0.47
0.47
2.71
7.42
23.29
40
0.03
0.03
0.13
0.13
0.47
0.47
2.71
7.42
23.29
45
0.03
0.03
0.13
0.13
0.47
0.47
2.71
7.42
23.29
50
0.03
0.03
0.13
0.13
0.44
0.44
2.57
7.03
22.51
60
0.03
0.03
0.13
0.13
0.44
0.44
2.57
7.03
22.51
70
0.03
0.03
0.13
0.13
0.44
0.44
2.57
7.03
22.51
80
0.03
0.03
0.13
0.13
0.44
0.44
2.57
7.03
22.51
90
0.03
0.03
0.13
0.13
0.44
0.44
2.57
7.03
22.51
100
0.03
0.03
0.13
0.13
0.44
0.44
2.57
7.03
22.51
Item
Number of stage
GB042
GB060
GB060A
GB90
GB090A
GB115
GB142
GB180
GB220
Backlash(arcmin)
High Precision P0
1
 
 
 
≤1
≤1
≤1
≤1
≤1
≤1
2
 
 
 
 
 
≤3
≤3
≤3
≤3
Precision P1
1
≤3
≤3
≤3
≤3
≤3
≤3
≤3
≤3
≤3
2
≤5
≤5
≤5
≤5
≤5
≤5
≤5
≤5
≤5
Standard P2
1
≤5
≤5
≤5
≤5
≤5
≤5
≤5
≤5
≤5
2
≤7
≤7
≤7
≤7
≤7
≤7
≤7
≤7
≤7
Torsional Rigidity(N.M/arcmin)
1
3
7
7
14
14
25
50
145
225
2
3
7
7
14
14
25
50
145
225
Noise(dB)
1,2
≤56
≤58
≤58
≤60
≤60
≤63
≤65
≤67
≤70
Rated input speed(rpm)
1,2
5000
5000
5000
4000
4000
4000
3000
3000
2000
Max input speed(rpm)
1,2
10000
10000
10000
8000
8000
8000
6000
6000
4000
 Noise test standard:Distance 1m,no load.Measured with an input speed 3000rpm 
| | |
| --- | --- |
| Application: | Machinery, Agricultural Machinery |
| Function: | Distribution Power, Change Drive Torque, Change Drive Direction, Speed Reduction |
| Layout: | Cycloidal |
| Hardness: | Hardened Tooth Surface |
| Installation: | Vertical Type |
| Step: | Double-Step |
Samples:

US$ 50/Piece

1 Piece(Min.Order)

|
Request Sample
Customization:

Available

|

Customized Request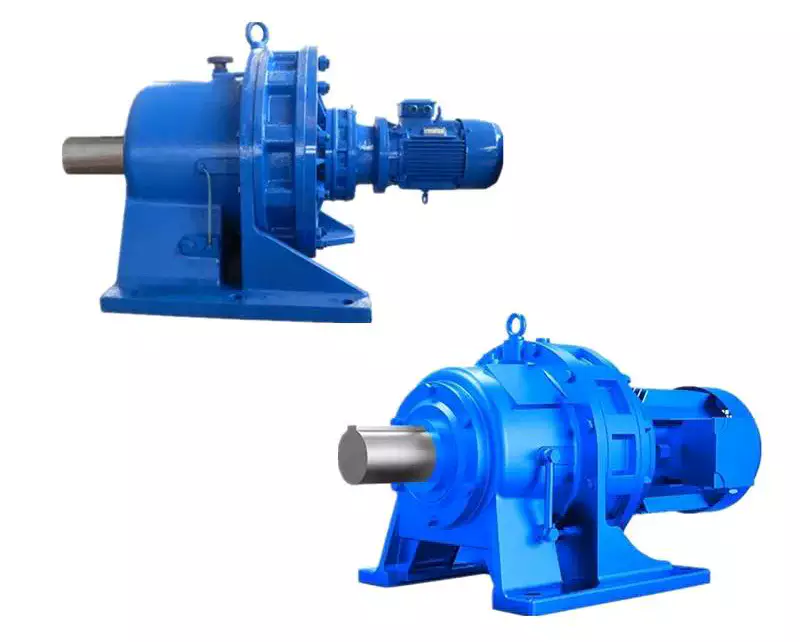 Cyclone Gearbox Vs Involute Gearbox
Whether you're using a cycloidal gearbox or an involute gearbox for your application, there are a few things you should know. This article will highlight some of those things, including: cycloidal gearbox vs involute gearbox, weight, compressive force, precision, and torque density.
Compressive force
Several studies have been carried out to analyze the static characteristics of gears. In this article, the authors investigate the structural and kinematic principles of a cycloidal gearbox. The cycloidal gearbox is a gearbox that uses an eccentric bearing inside a rotating frame. It has no common pinion-gear pair, and is therefore ideal for a high reduction ratio.
The purpose of this paper is to investigate the stress distribution on a cycloidal disc. Various gear profiles are investigated in order to study the load distribution and dynamic effects.
Cycloidal gearboxes are subject to compression and backlash, which require the use of proper ratios for the bearing rate and the TSA. The paper also focuses on the kinematic principles of the reducer. In addition, the authors use standard analysis techniques for the shaft/gear and the cycloidal disc.
The authors previously worked on a rigid body dynamic simulation of a cycloidal reducer. The analysis used a trochoidal profile on the cycloidal disc periphery. The trochoidal profile is obtained from a manufacturing drawing and takes into account the tolerances.
The mesh density in the cycloidal disc captures the exact geometry of the parts. It provides accurate contact stresses.
The cycloidal disc consists of nine lobes, which move by one lobe per rotation of the drive shaft. However, when the disc is rotated around the pins, the cycloidal disc does not move around the center of gravity. Therefore, the cycloidal disc shares torque load with five outer rollers.
A low reduction ratio in a cycloidal gearbox results in a higher induced stress in the cycloidal disc. This is due to the bigger hole designed to reduce the material inside the disc.
Torque density
Several types of magnetic gearboxes have been studied. Some magnetic gearboxes have a higher torque density than others, but they are still not able to compete with the mechanical gearboxes.
A new high torque density cycloidal magnetic gearbox using Halbach rotors has been developed and is being tested. The design was validated by building a CPCyMG prototype. The results showed that the simulated slip torque was comparable to the experimental slip torque. The peak torque measured was a p3 = 14 spatial harmonic, and it corresponds to the active region torque density of 261.4 N*m/L.
This cycloidal gearbox also has a high gear ratio. It has been tested to achieve a peak torque of 147.8 Nm, which is more than double the torque density of the traditional cycloidal gearbox. The design incorporates a ferromagnetic back-support that provides mechanical fabrication support.
This cycloidal gearbox also shows how a small diameter can achieve a high torque density. It is designed with an axial length of 50mm. The radial deflection forces are not serious at this length. The design uses a small air gap to reduce the radial deflection forces, but it is not the only design option.
The trade-off design also has a high volumetric torque density. It has a smaller air gap and a higher mass torque density. It is feasible to make and mechanically strong. The design is also one of the most efficient in its class.
The helical gearing design is a newer technology that brings a higher level of precision to a cycloidal gearbox. It allows a servomotor to handle a heavy load at high cycle rates. It is also useful in applications that require smaller design envelopes.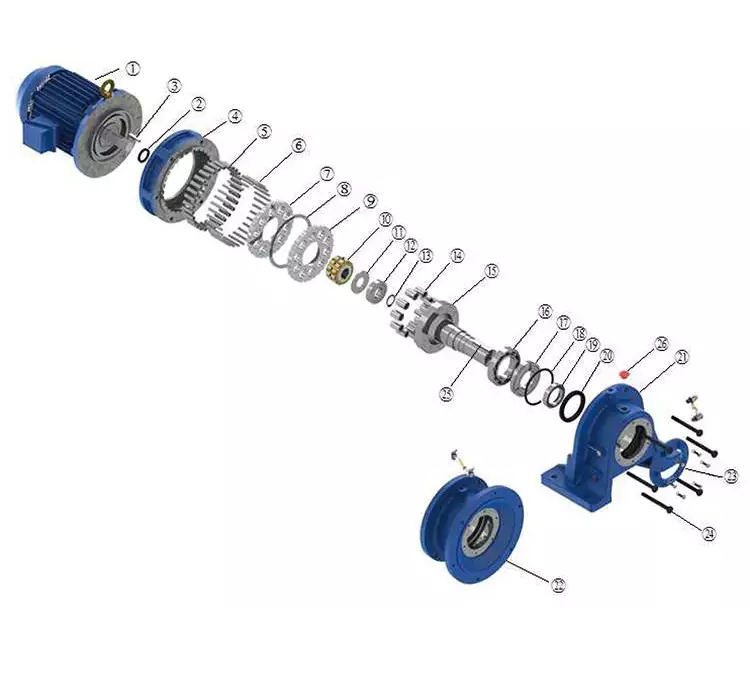 Weight
Compared to planetary gearboxes, the weight of cycloidal gearboxes is not as significant. However, they do provide some advantages. One of the most significant features is their backlash-free operation, which helps them deliver smooth and precise movement.
In addition, they provide high efficiency, which means that servo motors can run at higher speeds. The best part is that they do not need to be stacked up in order to achieve a high ratio.
Another advantage of cycloidal gearboxes is that they are usually less expensive than planetary gearboxes. This means that they are suitable for the manufacturing industry and robotics. They are also suited for heavy-duty robots that require a robust gearbox.
They also provide a better reduction ratio. Cycloidal gears can achieve reduction ratios from 30:1 to 300:1, which is a huge improvement over planetary gears. However, there are few models available that provide a ratio below 30:1.
Cycloidal gears also offer more resistance to wear, which means that they can last longer than planetary gears. They are also more compact, which helps them achieve high ratios in a smaller space. The design of cycloidal gears also makes them less prone to backlash, which is one of the major shortcomings of planetary gearboxes.
In addition, cycloidal gears can also provide better positioning accuracy. In fact, this is one of the primary reasons for choosing cycloidal gears over planetary gears. This is because the cycloid disc rotates around a bearing independently of the input shaft.
Compared to planetary gearboxes, cycloidal gears are also much shorter. This means that they provide the best positioning accuracy. They are also 50% lighter, meaning that they have a smaller diameter.
Precision
Several experts have studied the cycloidal gearbox in precision reducers. Their research mainly focuses on the mathematical model and the method for precision evaluation of cycloidal gears.
The traditional modification design of cycloidal gears is mainly realized by setting various machining parameters and center position of the grinding wheel. But it has some disadvantages because of unstable meshing accuracy and uncontrollable tooth profile curve shape.
In this study, a new method of modification design of cycloidal gears is proposed. This method is based on the calculation of meshing backlash and pressure angle distribution. It can effectively pre-control the transmission accuracy of cycloid-pin gear. It can also ensure good meshing characteristics.
The proposed method can be applied in the manufacture of rotary vector reducers. It is also applicable in the precision reducer for robots.
The mathematical model for cycloidal gears can be established with the pressure angle a as a dependent variable. It is possible to calculate the pressure angle distribution and the profile pressure angle. It can also be expressed as DL=f(a). It can be applied in the design of precision reducers.
The study also considers the root clearance, the backlash of gear teeth and the profile angle. These factors have a direct effect on the transmission performance of cycloidal gear. It also indicates the higher motion accuracy and the smaller backlash. The modified profile can also reflect the smaller transmission error.
In addition, the proposed method is also based on the calculation of lost motion. It determines the angle of first tooth contacts. This angle is an important factor affecting the modification quality. The transmission error after the second cycloid method is the least.
Finally, a case study on the CZPT RV-35N gear pair is shown to prove the proposed method.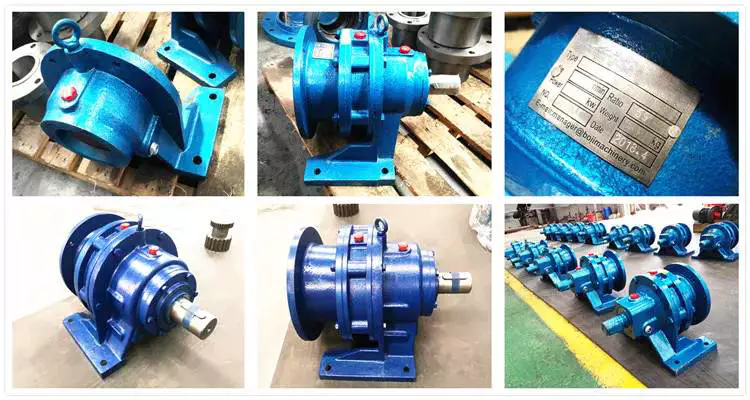 Involute gears vs cycloidal gears
Compared to involute gears, cycloidal gears have a lower noise, less friction, and last longer. However, they are more expensive. Cycloidal gears can be more difficult to manufacture. They may be less suitable for certain applications, including space manipulators and robotic joints.
The most common gear profile is the involute curve of a circle. This curve is formed by the endpoint of an imaginary taut string unwinding from the circle.
Another curve is the epicycloid curve. This curve is formed by the point rigidly attached to the circle rolling over another circle. This curve is difficult to produce and is much more expensive to produce than the involute curve.
The cycloid curve of a circle is also an example of the multi-cursor. This curve is generated by the locus of the point on the circle's circumference.
The cycloid curve has the same diameter as the involute curve, but is tangentially curving along the circle's diameter. This curve is also classified as ordinary. It has several other functions. The FE method was used to analyze the strain state of cycloidal speed reducers.
There are many other curves, but the involute curve is the most widely used gear profile. The involute curve of a circle is a spiraling curve traced by the endpoint of an imaginary tautstring.
Involute gears are a lot like a set of Lego blocks. They are a lot of fun to play with. They also have a lot of advantages. For example, they can handle center sifts better than cycloidal gears. They are also much easier to manufacture, so the cost of involute teeth is lower. However, they are obsolete.
Cycloidal gears are also more difficult to manufacture than involute gears. They have a convex surface, which leads to more wear. They also have a simpler shape than involute gears. They also have less teeth. They are used in rotary motions, such as in the rotors of screw compressors.




editor by CX 2023-04-26
Warranty: 3months-1year, 12 Months
Model Number: 6IKJ180
Type: Induction Motor
Frequency: 50/60Hz
Phase: Single-phase
Protect Feature: Drip-proof
AC Voltage: 110/220/380V
Efficiency: IE 1
Voltage: 220v/single phase
Rated Speed: 1350rpm/1550rpm
Protection class: B class
Keywords: AC Gear Motor
Power: 180W
Housing Diameter: 104*104mm
Shaft legth: 30mm
Shaft diameter: 15mm
Shaft style: Optical axis
Certification: CCC, ce, RoHS, VDE
Packaging Details: Paper box
JMKE 220v ac electric motors AC Motor 180W ac induction motorSpecification
Mode
6IKJ180(Oil bearing for applications in light loading)
Voltage
AC220V, SINGLE PHASE(if need 110v, contact us)
Power
180W
Frequency
50/60Hz
Current
0.25/0.13A
Torque
12.5 Kg.cm
Insulation class
B class(130 degree)
Working duty
Continuous running(S1 working duty)
Motor housing diameter
104*104mm
Accessory
installing screws
Available accessory
speed controller, Electromagnetic brake
Using Temperature/humidity
-10°C ~ 40°C (no freeze) / ≤85%
Warranty
One Year
Drawing
It's supported to Start Order even in small quantity.
Delivery by express service.
Datils
Optical axis
without gear head
Accessory: Speed controller (selected) Electromagnetic brake (selected)
if need extra accessory, contact us
NOTE
1. Connect wire in right way
2. Don't run on-load for too long time, or run over load in low speed in case of excess temperature
3. Don't drag the expansion line
4. Don't disassemble randomly the assembled gear head in case of noise by drop dusty
5. Don't beat or squeeze it when connecting the output shaft of gear motor and loading subject. Otherwise, inside deformation might cause noise or locked phenomena
FAQQ:What kind of motors you can provide?
A: We currently produce Brushed Dc Motors, Brushed Dc gear Motors, Planetary Dc Gear Motors, Brushless Dc Motors, Stepper motors and Ac Motors etc. Check above specifications or email us to recommend motors based on your specification.
Q:Can you send me a price list?
A: All of our motors are customized based on different requirements like lifetime, noise, voltage, and shaft etc. Price also varies according to annual quantity. It's difficult to provide a price list. If you can share your detailed requirements and annual quantity, we'll show the best offer.
Q:What's the lead period for regular order?
A: Standard period time is about 30 days, and period can be shorter or longer based on different model, period and quantity. Regular models normally have stock.

Q:Is it possible to have customized service if we pay sample cost.
A: Yes. According to your request for the voltage, speed, torque and shaft size/shape, we quote you. It's better to share the detailed like annual quantity, target price etc.

Q: What's the MOQ? Can I just order few quantities?
A:Welcome to order for personal use or replacement. It's no problem to send by international express delivery if regular mode has available stock.If MOQ, price and other terms are acceptable, we'd love to provide customized samples for your testing before official order.
Q: What's your payment term?
A:100% payment if quantity under 100pcs. Above 100pcs, 40% as deposit and 60% paid before shipment.
Q: How can I trust you to make sure my money is safe?
A: Order in trade assurance of Alibaba would be a good chose for you.
Production Flow
AC gear motor 6/15/25/40/90/120W
Speed controller/ piece
Separate Motor (without gear head)
Click here for more information
The Benefits of Using a Gear Motor
A gear motor works on the principle of conservation of angular momentum. As the smaller gear covers more RPM and the larger gear produces more torque, the ratio between the two is greater than one. Similarly, a multiple gear motor follows the principle of energy conservation, with the direction of rotation always opposite to the one that is adjacent to it. It's easy to understand the concept behind gear motors and the various types available. Read on to learn about the different types of gears and their applications.
Electric motor
The choice of an electric motor for gear motor is largely dependent on the application. There are various motor and gearhead combinations available, and some are more efficient than others. However, it is critical to understand the application requirements and select a motor that meets these needs. In this article, we'll examine some of the benefits of using a gear motor. The pros and cons of each type are briefly discussed. You can buy new gear motors at competitive prices, but they aren't the most reliable or durable option for your application.
To determine which motor is best for your application, you'll need to consider the load and speed requirements. A gear motor's efficiency (e) can be calculated by taking the input and output values and calculating their relation. On the graph below, the input (T) and output (P) values are represented as dashed lines. The input (I) value is represented as the torque applied to the motor shaft. The output (P) is the amount of mechanical energy converted. A DC gear motor is 70% efficient at 3.75 lb-in / 2,100 rpm.
In addition to the worm gear motor, you can also choose a compact DC worm gear motor with a variable gear ratio from 7.5 to 80. It has a range of options and can be custom-made for your specific application. The 3-phase AC gear motor, on the other hand, works at a rated power of one hp and torque of 1.143.2 kg-m. The output voltage is typically 220V.
Another important factor is the output shaft orientation. There are two main orientations for gearmotors: in-line and offset. In-line output shafts are most ideal for applications with high torque and short reduction ratios. If you want to avoid backlash, choose a right angle output shaft. An offset shaft can cause the output shaft to become excessively hot. If the output shaft is angled at a certain angle, it may be too large or too small.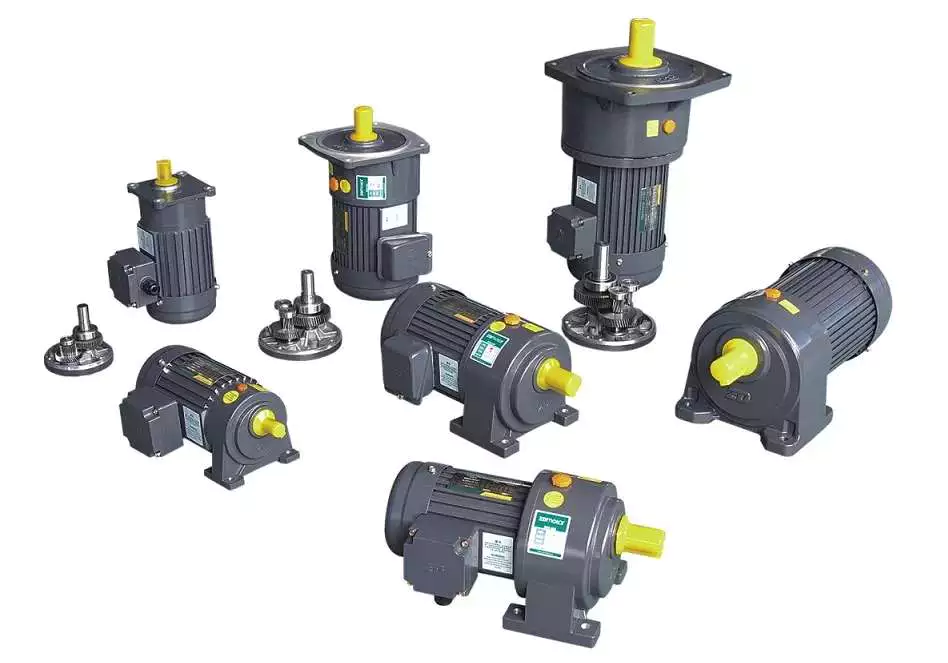 Gear reducer
A gear reducer is a special kind of speed reducing motor, usually used in large machinery, such as compressors. These reducers have no cooling fan and are not designed to handle heavy loads. Different purposes require different service factors. For instance, a machine that requires frequent fast accelerations and occasional load spikes needs a gear reducer with a high service factor. A gear reducer that's designed for long production shifts should be larger than a machine that uses it for short periods of time.
A gear reducer can reduce the speed of a motor by a factor of two. The reduction ratio changes the rotation speed of the receiving member. This change in speed is often required to solve problems of inertia mismatch. The torque density of a gear reducer is measured in newton meters and will depend on the motor used. The first criterion is the configuration of the input and output shafts. A gear ratio of 2:1, for example, means that the output speed has been cut in half.
Bevel gear reducers are a good option if the input and output shafts are perpendicular. This type is very robust and is perfect for situations where the angle between two axes is small. However, bevel gear reducers are expensive and require constant maintenance. They are usually used in heavy-duty conveyors and farm equipment. The correct choice of gear reducer for gear motor is crucial for the efficiency and reliability of the mechanism. To get the best gear reducer for your application, talk to a qualified manufacturer today.
Choosing a gear reducer for a gear motor can be tricky. The wrong one can ruin an entire machine, so it's important to know the specifics. You must know the torque and speed requirements and choose a motor with the appropriate ratio. A gear reducer should also be compatible with the motor it's intended for. In some cases, a smaller motor with a gear reducer will work better than a larger one.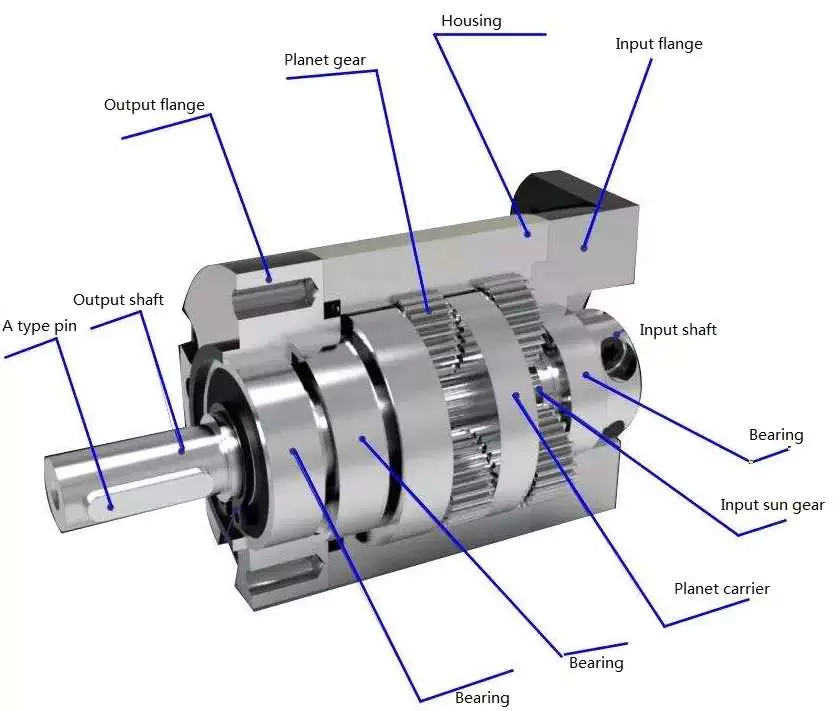 Motor shaft
Proper alignment of the motor shaft can greatly improve the performance and life span of rotating devices. The proper alignment of motors and driven instruments enhances the transfer of energy from the motor to the instrument. Incorrect alignment leads to additional noise and vibration. It may also lead to premature failure of couplings and bearings. Misalignment also results in increased shaft and coupling temperatures. Hence, proper alignment is critical to improve the efficiency of the driven instrument.
When choosing the correct type of gear train for your motor, you need to consider its energy efficiency and the torque it can handle. A helical geared motor is more efficient for high output torque applications. Depending on the required speed and torque, you can choose between an in-line and a parallel helical geared motor. Both types of gears have their advantages and disadvantages. Spur gears are widespread. They are toothed and run parallel to the motor shaft.
A planetary gear motor can also have a linear output shaft. A stepping motor should not operate at too high current to prevent demagnetization, which will lead to step loss or torque drop. Ensure that the motor and gearbox output shafts are protected from external impacts. If the motor and gearbox are not protected against bumps, they may cause thread defects. Make sure that the motor shafts and rotors are protected from external impacts.
When choosing a metal for your gear motor's motor shaft, you should consider the cost of hot-rolled bar stock. Its outer layers are more difficult to machine. This type of material contains residual stresses and other problems that make it difficult to machine. For these applications, you should choose a high-strength steel with hard outer layers. This type of steel is cheaper, but it also has size considerations. It's best to test each material first to determine which one suits your needs.
In addition to reducing the speed of your device, a geared motor also minimizes the torque generated by your machine. It can be used with both AC and DC power. A high-quality gear motor is vital for stirring mechanisms and conveyor belts. However, you should choose a geared motor that uses high-grade gears and provides maximum efficiency. There are many types of planetary gear motors and gears on the market, and it's important to choose the right one.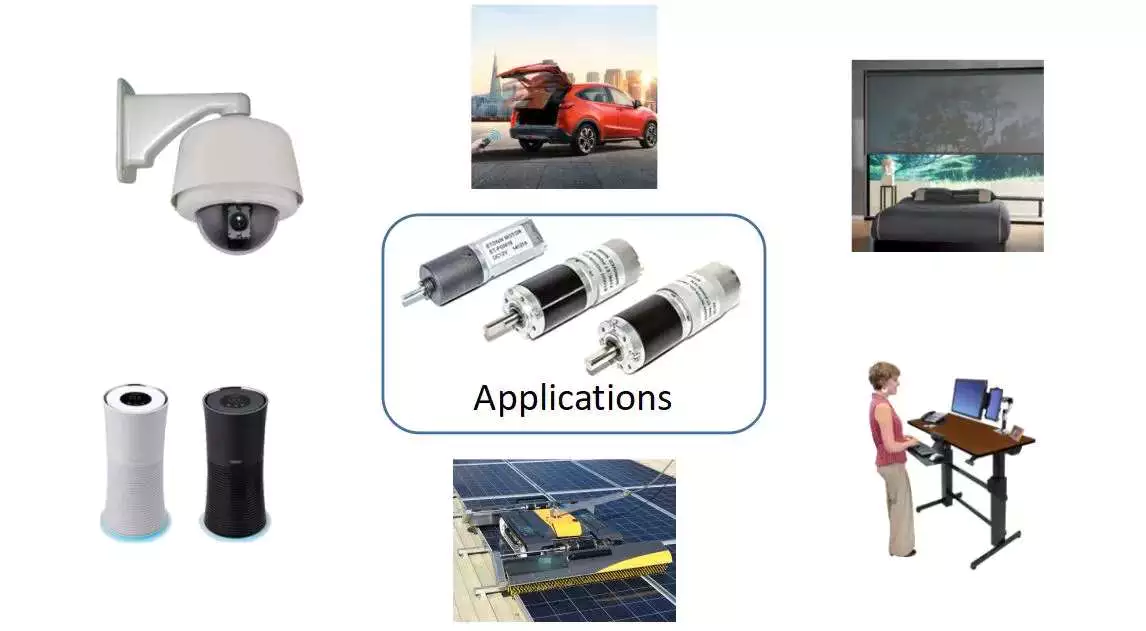 First stage gears
The first stage gears of a gear motor are the most important components of the entire device. The motor's power transmission is 90% efficient, but there are many factors that can affect its performance. The gear ratios used should be high enough to handle the load, but not too high that they are limiting the motor's speed. A gear motor should also have a healthy safety factor, and the lubricant must be sufficient to overcome any of these factors.
The transmission torque of the gear changes with its speed. The transmission torque at the input side of the gear decreases, transferring a small torque to the output side. The number of teeth and the pitch circle diameters can be used to calculate the torque. The first stage gears of gear motors can be categorized as spur gears, helical gears, or worm gears. These three types of gears have different torque capacities.
The first stage helical gear is the most important part of a gear motor. Its function is to transfer rotation from one gear to the other. Its output is the gearhead. The second stage gears are connected by a carrier. They work in tandem with the first stage gear to provide the output of the gearhead. Moreover, the first stage carrier rotates in the same direction as the input pinion.
Another important component is the output torque of the gearmotor. When choosing a gearmotor, consider the starting torque, running torque, output speed, overhung and shock loads, duty cycles, and more. It is crucial to choose a gearmotor with the right ratio for the application. By choosing the proper gearmotor, you will get maximum performance with minimal operating costs and increase plant productivity. For more information on first stage gears, check out our blog.
The first stage of a gear motor is composed of a set of fixed and rotating sprockets. The first stage of these gears acts as a drive gear. Its rotational mass is a limiting factor for torque. The second stage consists of a rotating shaft. This shaft rotates in the direction of the torque axis. It is also the limiting force for the motor's torque.